Extracted from foxgloves, digitalis was once used as a treatment for epilepsy. Could a side effect have triggered the artist's "yellow period"?
It was recently the 127th anniversary of the tragic death of Vincent van Gogh. His short life came to an untimely end two days after he shot himself in the chest; he had experienced mental health issues through much of his life. In the absence of a definitive diagnosis, speculation as to the true nature of his illness fills volumes.Although he came under the care of several doctors during his life time, knowledge of diseases of the mind was in its infancy in the late nineteenth century. As a result, many of the treatments used at the time would have been ineffective if not potentially dangerous. From our point of view, however, one drug that might have been given to
Towards the end of his life, under the care of Dr Gachet, it seems that Van Gogh may have been treated with digitalis for the epileptic seizures he experienced. Digitalis, extracted from foxglove plants, is a powerful medicine still in use today as a treatment for certain heart conditions, but not epilepsy. In Van Gogh's day, and for a long time before then, digitalis was known to be an effective treatment of dropsy, or accumulation of fluid in the body. Dropsy could have been caused by inefficient beating of the heart or because of liver disease. But with little understanding of the underlying causes of many diseases, almost anything shown to have an effect on the body – even if that was simply to induce vomiting – was considered a medical benefit. If the treatment for one disease was successful, it was often tried out on a host of others, just in case it proved to be a panacea. Extracts of foxglove really would have been effective in treating dropsy caused by heart failure, but would have done nothing for Van Gogh's epilepsy. However, it is just possible it may have contributed to his artistic output.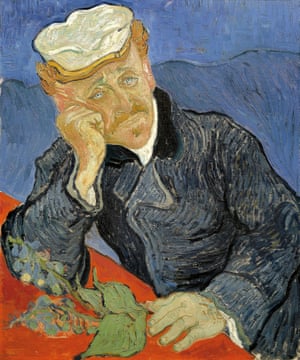 Digitalis is, in fact, a mixture of several different compounds that today are separated and used individually to treat heart conditions. One of the compounds, digoxin, is listed by the World Health Organisation as an essential medicine because of its huge benefit in the treatment of abnormal heart rhythms such as atrial fibrillation. Digoxin has two effects on the heart. Firstly, it helps to control the electrical signals that are sent across the heart to trigger the cells to beat in a coordinated way producing a heartbeat. Secondly, it makes the individual heart cells contract more slowly and strongly, improving the efficiency of the pumping action to move blood round the body.
To achieve these effects on the heart, digoxin and related compounds interact with the enzyme Na+/K+ ATPase. Digoxin is a very potent drug, the therapeutic dose is miniscule, and it is very close to the level that can also produce digitalis intoxication. Such a narrow gap between a therapeutic and potentially harmful dose would simply not be tolerated in a new drug being brought to market. However, the undoubted benefit of digoxin and its long history of use means it is a vital part of modern medicine. Because the drug has been in use for so long – over 200 years, since the physician William Withering advocated its use in 1775 – we have had plenty of time to understand how the drug works and the potential side-effects. Patients taking digoxin are carefully monitored and a number of antidotes have been developed to treat overdoses.
The problem, as with all drugs, is side-effects. To achieve its effects on the heart, digoxin and related compounds interact with the enzyme Na+/K+ ATPase.Digoxin's strong interaction with the enzyme means it is very potent, but Na+/K+ ATPase is distributed throughout the body. It is therefore the interaction between the drug and the enzymes located elsewhere in the body that is the cause of side-effects. The most common problems associated with digoxin are nausea and loss of appetite, but it's other effects are more intriguing.
Particularly high concentrations of digoxin's target enzyme are found in the cone cells in retina of the eye. These are the cells that give us our colour perception. It is very rare, but some people taking digoxin and related drugs can experience haziness to their vision, or a yellow tinge to everything they see, known as xanthopsia. Occasionally, points of light may appear to have coloured halos around them. Rarer still are effects on pupil size, such as dilation, constriction or even unequal-sized pupils.
The effects of digitalis intoxication have been suggested as the cause of Van Gogh's "yellow period" and the spectacular sky he painted in The Starry Night. More circumstantial evidence comes from the two portraits Van Gogh produced of his doctor, Paul Gachet, showing him holding a foxglove flower. One of Van Gogh's self portraits also shows uneven pupils.
All of this is very interesting but it is pure speculation. Van Gogh may not have taken digitalis, and perhaps simply liked the colour yellow and the effect of swirling colours around the stars he painted. Unequal pupil size in his self-portrait may have been the result of a simple slip of the paintbrush.
There are also many other factors to consider. Van Gogh was known to drink large quantities of absinthe (though not enough to produce yellow colour perception) as well as turpentine (which can affect vision but not colour perception). Whatever the reason for Van Gogh's particular artistic choices, we can still appreciate his remarkable output from such a tragically short life.
Source: The Guardian