A mum from Wiltshire is calling for major supermarkets to introduce trolleys with seats for children with disabilities.
Rachel Mead, from Melksham, has a 16-month-old son, who has two variants of TBCK syndrome.
A rare degenerative brain disorder, it affects Drae's central nervous system.
Ms Mead has now written about the problem with existing designs to four major supermarkets, which the BBC has asked for comment.
Drae is unable to support his head properly and can no longer sit comfortably in existing trolley seats.
"It's basically a breakdown of the brain and central nervous system. He has epilepsy and lots of other different problems," said Ms Mead.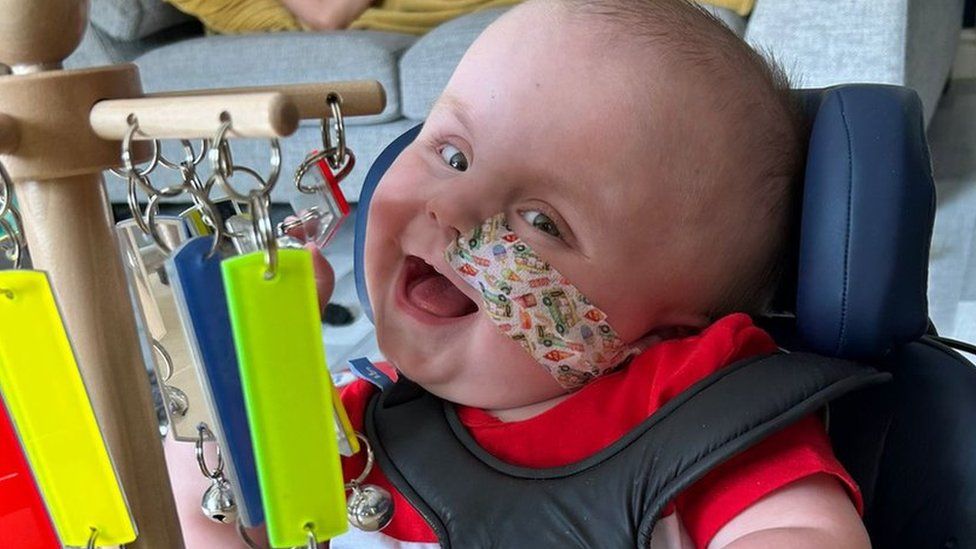 Rachel Mead says that Drae cannot sit comfortably in the baby or disability seats currently available in supermarkets
Because of the nature of his condition, Ms Mead said she cannot leave Drae with a babysitter or older sibling.
"We're now at the stage where he's too big for the baby trolley seat," she said
"They only go up to 9kg and he's 10.5kg. He's a year and a half old, he's getting too long, it's getting uncomfortable."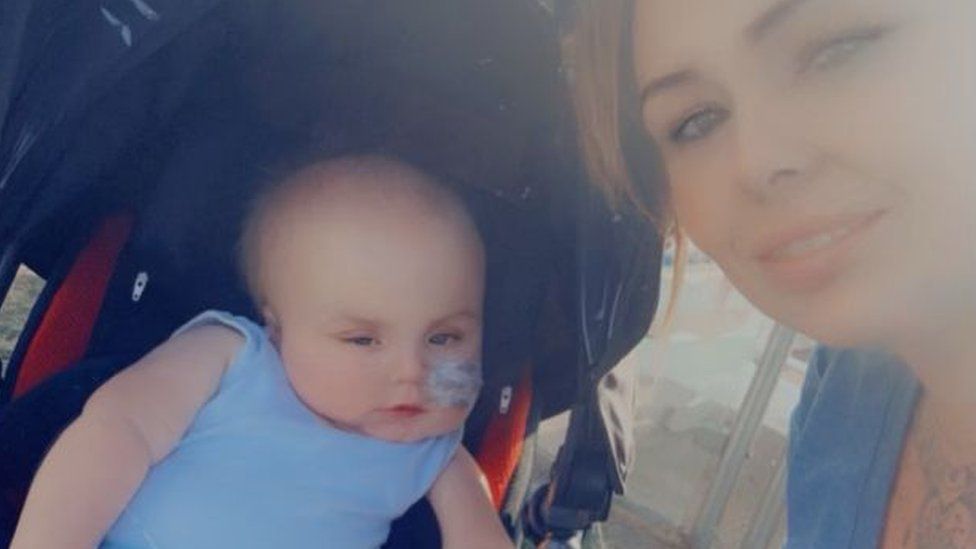 Ms Mead says she struggles to push Drae in his pram whilst also pushing the trolley
"I don't want to have to do an online shop. I quite enjoy that chore of doing a supermarket shop, it gets us out of the house," Ms Mead continued.
"I'm not the only one in this position. There's many people out there struggling."
Many other parents have shared their difficult experiences of shopping with their disabled children, she said.
Ms Mead has now written to the four top supermarkets, Sainsbury's, Asda, Tesco and Morrisons, asking for a more accommodating seat to be designed.
She said: "All they need to do is make these baby seats bigger, more of a bucket style, with a five-point harness to support these kids."
She has also called for the seats to be padded and fitted across the top of the trolley rather than facing the parent.
Source: https://www.bbc.com/news/uk-england-wiltshire-66592778