Pediatric neurologists are being bombarded with questions from patients and families about medical marijuana, but they're not convinced of the scientific evidence supporting its use in conditions such as intractable epilepsy. Even if they were, they're somewhat confused about where they stand legally.
But many think that the landscape is about to change.
Delegates attending a jam-packed session at the Child Neurology Society (CNS) 2014 Annual Meeting here learned more about laws pertaining to cannabis use across the United States, the chemicals these products contain, how these substances might work to treat neurologic illnesses, and what evidence exists in terms of efficacy.
Currently at least, there appears little to go on when it comes to evidence. The American Academy of Neurology determined earlier this year that there is not enough to show that medical marijuana is helpful in treating epilepsy, the most common neurologic condition in childhood.
Although the CNS itself doesn't have a position on medical marijuana, the American Epilepsy Society (AES) does. According to that group, the risk/benefit ratio doesn't support the use of marijuana to treat seizures.
A study released in advance of this year's AES meeting in December adds a bit more to the body of evidence. It included parental reports of 58 children with refractory epilepsy, average age 7 years, who took an oral cannabis extract and were followed at Children's Hospital Colorado.
Although 48.3% of the patients had at least some improvement in seizures, less than a third (31.0%) reported a greater than 50% reduction in seizures or were treatment responders. Many families, however, reported improvements in behavior, alertness, and language, and adverse events were generally mild.
Good News
Some neurologists prefer to see this as good news. "I don't think we necessarily have to take this as discouraging news and drop everything," Elson So, AES president and professor, neurology, Mayo Clinic College of Medicine, Rochester, Minnesota, said in an interview with Medscape Medical News. "The encouraging side is that this may be an antiseizure medication; it may not be a miracle drug, but nonetheless it may be effective for some people with certain types of epilepsy."
However, there are still things experts need to learn, including exactly for whom to recommend marijuana, how to use it, how to look for adverse effects, and what to expect long term, said Dr So.
Francis Filloux, MD, professor, pediatric neurology, University of Utah, Salt Lake City, who presented during the marijuana session, also sees the positive side. The emerging picture, he told Medscape Medical News, is that some patients with intractable epilepsy respond well to medical marijuana. "Even a subgroup would be great because these children are indeed refractory to virtually everything else."
So much interest is being generated in this area that new cannabis drugs are being developed at a rapid rate. Dr Filloux's center is participating in an investigational new drug (IND) study of a cannabidiol called Epidiolex, which is being developed by GW Pharmaceuticals in the United Kingdom.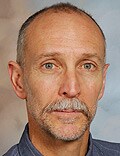 Dr. Francis Filloux
"Within the next year, there will be a lot more data because there are 21 centers in US that have this expanded-access IND," said Dr Filloux. "Multiply that by up to 25 subjects and that's well over 400 patients who will have been treated with Epidiolex, and we will have information about those in terms of at least safety profiles, and subjective response to treatment."
The Utah center also hopes to participate in an upcoming phase 3 trial of the same drug in pediatric patients with Dravet syndrome and Lennox-Gastaut syndrome, both rare forms of epilepsy, said Dr Filloux. He added that another company — Insys — is "jumping into the fray" to test a competing product, a synthetic cannabidiol, in the United States.
All this will add more information to the evidence file, and fairly quickly. "I believe that things will change," said Dr Filloux. "What's exciting from the perspective of both patients and physicians, at least from my standpoint, is that the pace of progress is really rapid and it's being spurred by patient and family interest."
In addition to epilepsy, cannabis offers "intriguing possibilities" for other childhood neurologic conditions, including autism and fragile X syndrome, noted Dr Filloux.
As well as these developing pharmaceuticals, two medical marijuana formulations are already approved by the US Food and Drug Administration (FDA): Marinol, the active ingredient of which is a synthetic delta-9-tetrahydrocannabinol (THC), and Cesamet, the active ingredient in which is a synthetic cannabinoid similar to THC.
There is also a host of "artisanal" marijuana products available across the United States, and state laws pertaining to use of marijuana products vary across the nation.
Colorado and Washington are the only two to allow both medical and recreational use of marijuana. During her CNS session presentation, Kristen Park, MD, assistant professor, neurology and pediatrics, University of Colorado, Aurora, shared the experience of child neurologists in her state.
In 2000, Colorado passed a constitutional amendment to allow the use of medical marijuana, and a registry was created the following year. Legislation pertaining to recreational marijuana was passed last year.
To date, 806 physicians in Colorado have prescribed medical marijuana, and 115,208 patients (2% of the state's population) have obtained registry cards allowing them to use the treatment. That registry includes 400 children as of last August, Dr Park toldMedscape Medical News in an interview.
Severe pain accounts for 94% of all reported conditions, with muscle spasms the reason for 13% of use. Epilepsy ranks lower than cancer at 2%, she said.
Legal Picture
Other states have passed laws allowing only medical use of marijuana, while some have decriminalized use and/or possession of marijuana. Some states have not passed any such laws.
This fragmented patchwork of legal status is confusing, as are the various types and strains of medical marijuana available across the country, commented Jonathan Mink, MD, PhD, professor, child neurology, University of Rochester, New York, who attended the session.
"You get many, many different chemicals in marijuana, and some of them are extracted, and some are different strains. Each state seems to have its own policy about where they come from, whether they're grown in the state, and how they're processed."
Some experts are concerned about the level of THC in artisanal marijuana products. The level depends on how a plant is grown, when it's harvested, and what constituent parts — for example, stems or flowers — are used, said Dr Park.
"The concern is that growers who are making these artisanal preparations may not have the methods to keep their content consistent from month to month or batch to batch, and there are limited ways of being able to test that," Dr Park said. "So even if there are preparations that have limited amounts of THC, it's not guaranteed that's going to be the same later."
This may be particularly important for children, whose brain and nervous system are still developing. Doctors point out that some medications are metabolized and tolerated differently in children than in adults. There have also been reports of perhaps irreversible decline in cognitive function in children treated with medical marijuana, and of a link with depression.
Further, the state laws pertaining to medical marijuana don't seem to jive with federal law. Marijuana comes under Schedule I of the Controlled Substances Act, which means that because of the potential for abuse, doctors can access it only for research purposes and with the approval of the federal government.
Dr Park personally doesn't prescribe medical marijuana because she's concerned about how it would affect her license. Many of her colleagues are advocating that marijuana to be reclassified as a Schedule II or below substance, or even delisted altogether.
"The situation is still a little murky," even though the federal government has indicated that it's taking a position of "monitoring and watchful waiting" to see how policies take shape, she said. "But the Schedule classification has not been rescinded, and it is still against the law federally, and that's why many people are unwilling to prescribe."
The ongoing discrepancy between what's going on at the federal level and at the state level could stall research progress, she added. "I feel that many things are not going to be resolved or not going to move forward until that discrepancy is somehow dealt with; otherwise, things are too fragmented and science is going to be impeded."
Although she doesn't prescribe medical marijuana herself, Dr Park does follow about 10 children in her practice who are using it. She reported that for some, it has been helpful but for others, it hasn't been very beneficial.
Waiting for Evidence
Legal status may be in limbo, but excitement about what the new studies will bring is growing. While they wait for more answers, though, doctors don't have much to tell inquiring patients except that there's no solid evidence yet in favor of medical marijuana, at least for childhood epilepsy.
"Aside from the occasional anecdote, there is almost no evidence that it is beneficial for treating seizures," said Dr Mink. "Basically, this is a situation in which the public demand has exceeded our information."
As a physician in New York, Dr Mink can't prescribe marijuana. It's one of the states that have no relevant legislation.
And while he understands the desire of parents to find something effective for their child who experiences repetitive seizures, at present, "there's no reason to think this is going to be more effective than fresh basil or mint out of the garden."
He stressed that just because marijuana is "natural" doesn't mean it's effective. "Arsenic and strychnine are natural too; just because something is natural doesn't mean it's good for you."
There may be lots of testimonials from parents convinced that marijuana cured their child's epilepsy, but "we also have children who get better just because they get better," added Dr Mink.
Dr Park, too, is waiting for more research. "I'm not saying it's not effective in some patients; I'm saying that we need to define for whom it's effective, and whether it's at an appropriate risk/benefit ratio. It also needs to be monitored very carefully and studied in more depth because I think that's where we don't have the answers. There are quite a few questions and quite a few concerns, so it's still very uncharted territory."
Child Neurology Society (CNS) 2014 Annual Meeting. Breakfast Session. October 25, 2014.
Source: P. Anderson – Medscape