There is no link between long-term benzodiazepine use, defined as use for 6 months or longer, and increased deposition of beta-amyloid in the brain or cognitive decline in elderly patients who are without dementia, a small study suggests.
(Clonazepam is the most commonly used benzodiazepine for long-term treatment of epilepsy.  Klonopin, Diastat, Valium, Ativan and Tranxene are also used in the treatment of epilepsy. EpilepsyU.com) 
The study was published online May 4 in theAmerican Journal of Geriatric Psychiatry."The take-home of this is that benzodiazepine use is not associated with an increase of beta-amyloid, which is a marker of Alzheimer's pathology," lead author Ariel Graff-Guerrero, MD, PhD, from the Centre for Addiction and Mental Health, University of Toronto, in Canada, and the Alzheimer's Disease Neuroimaging Initiative (ADNI), told Medscape Medical News.
Conflicting Results
"Benzodiazepines are very commonly prescribed to curb anxiety, agitation, and anxiety in older adults, and there has been some controversy as to whether their use is linked to increased cognitive decline," said Dr Graff-Guererro.
Benzodiazepines for Epilepsy
Examples
| | |
| --- | --- |
| Generic Name | Brand Name |
| clonazepam | Klonopin |
| clorazepate | Tranxene |
| diazepam | Diastat, Valium |
| lorazepam | Ativan |
| midazolam | |
"Studies investigating the effects of benzodiazepines on progressive cognitive decline in older individuals have yielded conflicting results, but in our pilot study, previous benzodiazepine use was actually associated with lower levels of cortical amyloid-beta in nondemented elderly controls," he added.
In this cross-sectional, prospective study, the researchers investigated the effects of benzodiazepine use on beta-amyloid deposition in adults aged 55 to 90 years who did not have dementia.
They used data from the ADNI database to determine whether the level of cortical beta-amyloid was decreased in elderly benzodiazepine users compared with matched patients who did not use benzodiazepines.
They also analyzed whether long-term benzodiazepine use was linked to progressive cognitive decline over 2 years of follow-up.
The analysis included 15 elderly adults without dementia who were prescribed benzodiazepines for at least 1 year (range, 1-25 years; mean, 7.47 years). These patients were matched to 15 nonusers.
Cortical levels of beta-amyloid were assessed by positron emission tomography radiotracer florbetapir F-18 (Amyvid, Avid Radiopharmaceuticals, Inc). Changes in global cognitive function and verbal memory performance over 2 years were assessed using the Montreal Cognitive Assessment score and the Rey Auditory Verbal Learning Test.
The analysis of the ADNI data showed that for previous benzodiazepine users, cortical beta-amyloid levels were lower in the frontal (F [1, 26 \] = 8.82, P = .006), cingulate (F [1,126) = 8.58, P = .007), parietal (F [1, 26) = 7.31, P = 0.012), and temporal (F [1, 26] = 7.67, P = 0.010) regions of the brain in comparison with patients who had not used benzodiazepines.
There was also no difference in global cognitive function and changes in cortical beta-amyloid over 2 years between long-term benzodiazepine users and nonusers.
Inconclusive Results
"The conclusions are at best inconclusive," said Josepha Cheong, MD, professor of psychiatry, University of Florida College of Medicine, Gainesville, who was asked to comment on this study for Medscape Medical News.
"Just because it does not 'prove' that there is a direct link between benzodiazepine use and the development of cognitive decline or dementia, it does not necessarily disprove that there is a link between benzodiazepines and cognitive decline," Dr Cheong said.
"In the end, clinical judgment indicates that long-term use of benzodiazepines in the elderly is still cautioned against, given the incidence of issues such as falls, confusion, and exacerbation of cognitive impairment," she said.
Weighing in with his views, Donovan T. Maust, MD, University of Michigan, Ann Arbor, noted that the authors started from the idea that both abnormal neuronal excitability and amyloid are features of Alzheimer's disease.
"The function of benzodiazepine is neuronal depression, and perhaps, therefore, people on benzodiazepines have reduced excitability and therefore would have less amyloid," Dr Maust told Medscape Medical News.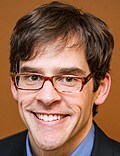 Dr Donovan Maust
"The authors show that in a small number of patients, benzodiazepine use is associated with lower cortical beta-amyloid and does not appear to be linked to progressive cognitive decline. Because the sample is so small and ADNI patients are not at all representative of the general population ― for example, the average years of education in the benzodiazepine group was more than 16 years ― these results should not be generalized to the average patient," he said.
Dr Maust also noted the link between benzodiazepine use in elderly patients and falls, fractures, car accidents, and amnesic effects.
"The authors are not suggesting that benzos are safe in healthy seniors," he said.
The study was sponsored by the National Institute on Aging. Dr Graff-Guerrero, Dr Cheong, and Dr Maust report no relevant financial relationships.
Am J Geriatr Psychiatry. Published online May 4, 2016.
Source: MedScape