A little Whanganui girl whose classmates refused to come to her birthday is about to be flooded with friends, presents and birthday well-wishes from all over the world.
Gabi Barnett, 9, has suffered some setbacks in the last two years. Merciless bullying by another girl has made Gabi shy and withdrawn.
Her mum Toni says the bully picked on someone every year, and one year she chose Gabi.
"It was pretty nasty stuff. She would say things like 'You should just die'.
"Gabi got really depressed and chopped one side of her hair off, so she had to get a haircut and we could only cut it short – then there was more bullying, she was getting called a boy. It snowballed."
The girl's family eventually moved and Gabi was delighted – but then out of the blue she had an epileptic seizure.
It temporarily affected her speech and coordination, and once she was back to school, she wasn't allowed to swim or climb too high in case of a seizure.
"Gabi loves swimming, so it really got to her. She loved the big playground, but she couldn't go on it. A whole lot of kids started teasing her. They didn't understand epilepsy."
Some of the things children say are shocking, especially because they're only at primary school, Barnett says.
"It makes you wonder, where are they getting it from?"
Gabi's a normal girl – her favourite colours are purple and teal, and she loves painting her nails, doing her hair and music. And she loves school.
But severe bullying has taken its toll, Barnett says.
"I've watched her go from a happy-go-lucky fun kid with no problems, who's not really phased about anything, to a kid who is finding normal everyday things are too much for her."
Gabi turns 10 on May 21. As the "big double digits" approached, Barnett decided to throw a party to give her daughter a boost.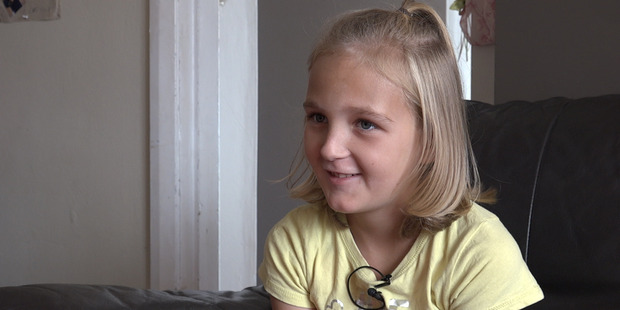 But when Gabi invited girls from school, they replied that they "didn't want to come to a retard's birthday".
So Barnett plans to show her daughter how loved and beautiful she is, by throwing her a 10th birthday she'll never forget.
Gabi loves singing – she and her mum have a busking license and she loves nothing more than to belt out a tune for passers-by. "When she's singing she forgets about that stuff," Barnett says.
Barnett and her friends have hatched a plan to set up a surprise party on Gabi's birthday this Sunday, complete with karaoke.
Gabi can sing and perform to her heart's content, surrounded by well-wishers and people who think she's wonderful.
A Facebook post about Gabi's birthday has quickly gone viral, and she now has a special 10th birthday page with more than 700 followers.
Presents and cards are already being mailed from as far as the UK and the USA.
Anyone can record a birthday video or send her a card. And Barnett would also like to invite a select group of children to come to Gabi's birthday in person.
Children who have been through bullying – or who have dealt with an issue like epilepsy – will be guests of honour at the party.
Barnett would like the parents of those children to get in touch this week so they can help surprise Gabi. Anyone interested can join the Facebook page here.
"She is a beautiful child. It's just because there are uneducated kids – but there are more good people out there.
Source:  Dubby Henry, Sieska Verdonk – NZ Herald