A new multi-assay, diagnostic blood test may significantly differentiate patients with depression from those without, new research suggests.
In 2 small pilot studies, the serum-based test, which examines 9 biomarkers, demonstrated approximately 91% sensitivity and 81% specificity in distinguishing between the participants with major depressive disorder (MDD) from their healthy counterparts.
"I think these results surprised everyone in terms of their robustness," lead author George Papakostas, MD, from the Department of Psychiatry at Massachusetts General Hospital in Boston and associate professor of psychiatry at Harvard Medical School, told Medscape Medical News.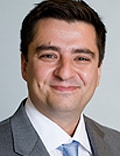 Dr. George Papakostas. Source: Massachusetts General Hospital
"However, we now need a replication of the robustness of the test's performance before it should be used as a screening tool in a regular, community clinic," he added.
Dr. Papakostas noted that diagnosing MDD and other psychiatric disorders has traditionally been based on symptoms reported by patients. However, accuracy can vary, depending on a clinician's experience and available resources.
"Adding an objective biological test could potentially improve diagnostic accuracy and help us track individual patients' response to treatment. And it appears that we are getting very close to developing this type of test," Dr. Papakostas said.
The study was published online December 13 in Molecular Psychiatry.
"The Holy Grail"
According to investigators, finding reliable diagnostic tests for major mental disorders is akin to discovering "the Holy Grail" in psychiatry.
"Despite decades of intensive research, the development of a diagnostic test for [MDD] has proven to be a formidable and elusive task, with all individual marker-based approaches yielding insufficient sensitivity and specificity for clinical use," write the researchers.
However, they add that combining data from single biomarkers into a single measure has resulted in a better diagnostic performance in past research.
In the current pilot study, the investigators enrolled 36 patients between the ages of 18 and 65 years who had been diagnosed with MDD (63.9% men; mean age, 42.5 years) and 43 nondepressed healthy participants (32.6% men; mean age, 30.0 years). Mean body mass index (BMI) was 27.7 kg vs 24.4 kg, respectively.
For the replication study, 34 different adult patients with MDD (44.2% men; mean age, 43.1 years; mean BMI, 30.6 kg) were compared with the control participants from the pilot study.
Blood samples were collected from all participants, and levels of 9 serum-based biomarkers were measured. The biomarkers that were assessed included α1-antitrypsin, cortisol, apolipoprotein CIII, and epidermal growth factor. The biomarkers that were selected represented 4 biochemical domains: inflammation, the hypothalamic-pituitary-adrenal axis, neurotrogenesis, and metabolism.
"Individual assay values were combined mathematically to yield an MDDScore. A 'positive' test…was defined as an MDDScore of 50 or greater," report the investigators.
Results from the pilot study showed that 33 of the patients with MDD had a positive score test compared with 8 of the nondepressed participants. The sensitivity and specificity of the test was 91.7% and 81.3%, respectively, in differentiating between the 2 groups.
In the replication study, 31 of the 34 patients with MDD had positive scores, and the test showed a sensitivity and specificity of 91.1% and 81%.
Study limitations that were cited included the small number of nondepressed healthy control participants, which disallowed matching the MDD patients in terms of age, gender, and BMI.
The investigators note that further research is needed to confirm the test's performance across these variables, as well as across different ethnic groups and in various clinical settings.
"Certain patients with depression have told me they have a need to see some objective evidence, some test that can measure their disorder. They think this will help by confirming to them that it's not a character deficit or weakness," said Dr. Papakostas. "If this particular test pans out as a screening tool, I think this need could be met by many patients."
Dr. Papakostas noted that an especially interesting aspect of the study was that it "photographed some usual suspects" as potentially being involved in the pathophysiology of depression. This included biomarkers belonging in the area of inflammation.
"However, we need to better understand what the other implications of this test are. For example, we don't yet know if a person who never had depression but tests positive is at risk for developing depression."
He added that they also cannot yet answer whether or not someone who has been successfully treated for depression but has a positive test score is at higher risk for relapse.
"I think the bottom line is that a test for depression should hopefully help clinicians and patients but not ignore clinician impression or patients' objective experience."
This means, said Dr. Papakostas, that a negative test from a patient "showing all the signs and symptoms of depression" should not be used by clinicians to justify withholding treatment or by insurance companies to not cover treatment costs.
All that being said, he reported that the investigators are currently planning several follow-up studies, including assessing whether or not the test can differentiate between unipolar and bipolar depression.
Caution Needed
"It's always helpful to have biomarkers, but I would be interested to know if there was any difference between this and the clinician's ability to diagnose these patients," Carol Bernstein, MD, associate professor of psychiatry at the New York University School of Medicine, told Medscape Medical News.
Dr. Carol Bernstein
"I'm also interested in knowing what advantages this gives us. I'm not saying it's not a good thing, but I worry that medicine is moving in the direction of everyone looking for a magic bullet, something that says someone definitely does or does not have depression," she added.
"I think this is a wonderful adjunctive tool, and this is a validated study. But what does it cost? It's important to think broadly about what the issues are for all of us."
Dr. Bernstein, who was not involved with this research, is the immediate past president of the American Psychiatric Association, which is overseeing the development of the upcoming Diagnostic and Statistical Manual of Mental Disorders, Fifth Edition.
She noted that, overall, the costs and benefits of these types of tests need to be weighed carefully.
"If someone doesn't meet the bar for a test like that this, are you not going to treat them? There are a lot of questions that need to be considered. I think it's exciting that people are investigating things like this and if we can see correlations. But the real issue is the patient," said Dr. Bernstein.
"The label and the markers and the rest of it…I think it's just a cautionary tale."
Seven of the 9 study authors, including Dr. Papakostas, disclosed several financial relationships, which are fully listed in the original article. Of these 7 authors, 3 are employees of Ridge Diagnostics, which developed the test and funded the studies. Dr. Bernstein has disclosed no relevant financial relationships.
Mol Psychiatry. Published online December 13, 2011. 
Source: Medscape News Today by Deborah Brauser